Posted by Momus in Blasters, Beggars & Credits | 21 Comments
Blasters, Beggars & Credits: Schubert Says No Infinite Money
Some players do it for glory. Some do it for infamy. Some like to accumulate the most points, or explore the far reaches of the worlds they inhabit. This, however, is not a column for those people. This is a column for those people who, quietly or not, enjoy making money so that their digital avatar can sleep on large piles of cash.
Hi all, I'm Momus – long-time reader, first time author. My main focus will be on economics, though as with any MMO, all systems tie into each other. You might see tips and strategies you find interesting no matter what your level of dedication to commerce is; certainly, we'll be focused on making money off the trends of what players are doing with their time in-game. But what do we do until then? Speculate, of course!
Every so often, the developers smile upon the poor, downtrodden economic players and give us a juicy tidbit. Mr. Damion Schubert, Lead Systems Designer for The Old Republic, did us that favor recently (twice, actually).
To list the important points:
Cost of sending companions on missions exceeds the vendor cost of materials returned
Anticipating supply/demand economies (not a huge reveal there, I'm afraid)
Won't be able to just gather with all companions all the time; will run into money problems
More economic to do it by hand (i.e., traditional farming)
May or may not have a mission to gather it anyway
HOWEVER, certain rare materials come only from companion gathering
These are some fairly heavy tidbits, and they are very telling about the system they are designing. The crew skills are not intended to simply be, "Send people here and make money," but we already knew that, considering the costs of sending your people on missions as seen in the previews. Instead, now we know that recuperating your costs through vending items will not be viable, save for very rare instances. To turn any profit, you will have to look to the open market for materials or products, which can be both good and bad.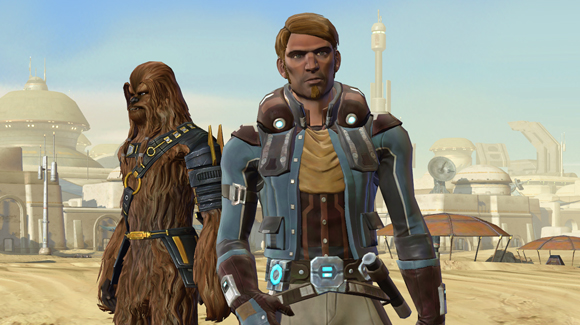 In other games, one of the primary ways that wealth is distributed is through raw materials. Raw materials were often worth more than many of the end products that could be produced with them – most noticeably through the leveling game. For example, Mithril in World of Warcraft was frequently worth far more than the other metal products obtained at higher levels. This had to do both with scarcity and the fact that you absolutely needed it in the mid-levels. Sometimes it was even worth more than the highest level metals.
In The Old Republic, I don't know if we can assume any different, but the relative (pseudo) high cost of raw materials might invalidate them as a primary traded item. First off, putting goods at an actual cost to gather, while a great idea, actually gives people an estimate of their worth. To use completely made-up numbers – if it costs 100 credits to get 10 pieces of steel, then we can generally infer that the minimum value of that steel is 10 credits per. To turn a profit, we must sell it at 11 credits per. That's basic math that anyone can get.
However, if we have a player farming by hand and foot, that is, actually driving around and picking up the nodes themselves, he might decide to sell for 8 or 9 credits per – thus, our first player will be unable to turn any profit (assuming he's impatient), which might force him to just retire from gathering from crew skills as a money-making alternative. It is entirely possible that the system will discourage its own use simply by making materials more expensive than the market will bear.
But wait, Momus, you're forgetting the rare raw materials you can only get from gathering with your crewmates! Except that I'm not. What will likely happen, under the scenario I discussed, is that the resource gathering professions ignore the bulk of what they get, or it becomes end-products, and instead they focus entirely on those rare materials. The bulk of the raw materials of standard quality (i.e. where the wealth usually is) gets discarded or used, and not distributed as the baseline. It could be good, and it could be bad; and it could be that lots of items get reverse engineered in the process.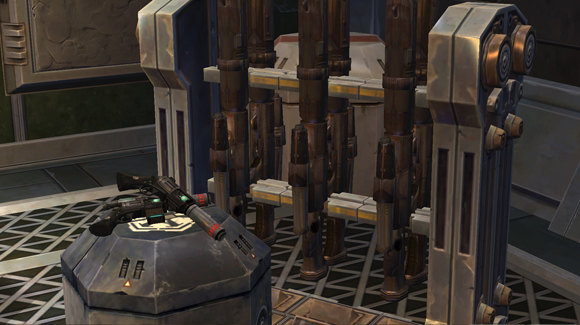 The potential problem here is that it could decrease the amount of activity on the auction house. Another basic law of economics is that if you can't make money from it, there's no reason to do it. It gets muddled when looking into the crystal ball – after all, it's a numbers tweak. But if it's expensive enough to discourage farming of raw materials through the crew skills system, it might be enough to discourage good trading. The price controls on crew skills will dictate a lot of what you see on the auction house, both in terms of volume and pricing – you might see quite a bit of stuff at a close (but above) price point to what it costs for crew skills, or you'll see less and it'll be cheaper than the crew skills.
The real problem may come in the form of credit farmers who crash markets – whether through a sense of monetary deflation benefiting them or just trying to make as much as they can, and quickly. They may have a major effect on the market when they sell goods. Here's to ardently hoping this is not the case in TOR. But if it is, it might throw the crew skills for a loop as well, which is not the fault of the designers. I'm on board with the system, I just hope they pay attention to the numbers and try and make it reasonable.
To focus more on the positive: gathering rare materials through the crew skills profession is a fantastic way to promote not only high level usage of the system but also to ensure that those items are both rare and valuable. One of the major problems plaguing the auction houses in other games is relative value: that is, I value an item at X, and you value an item at Y, which happens to be either well below X or high above. Items that are imbued with value (i.e. acquisition costs) are of far more worth to the economy and to players in general. There will be frustration with their scarcity, and I don't know if there's a good way to alleviate that – though I do believe that scarcity of high-end materials is good if it keeps high-end items at a premium.
Beggar's Tip: Each week, I will be including a fast and easy tip for the player who just wants a quick hit and isn't necessarily focused on the economy. For this week, the tip is simple: prepare, prepare, prepare! The information is starting to trickle out of BioWare – consume it greedily. The more planning you do, the better off you will be (assuming you stick to your plan; that's a another story, and post topic, entirely). If you read nothing else, the developer tracker is your best bet for confirmed information (though if you're on Ask A Jedi I find it hard to believe you aren't pilfering other sites for all the info you can get).
Where do you think the economy will go? How do you think the crew skills system will impact the traditional model of auctioneering?